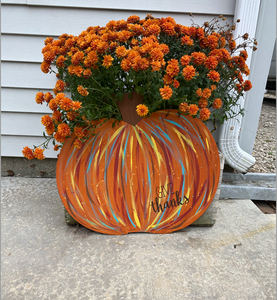 The always classic fall shape - the short pumpkin but this version is a standing version!  Use it in your decor around the house or even outdoors to add all the pumpkin metal cuteness everywhere! 
36 inch pumpkin - great for outdoor decor on fences or exterior walls; also great for interior wall decor
24 inch pumpkin - perfect size for door decor (as most doors are 30 inches or wider)
12 inch pumpkin - often referred to our "Littles line" as they are great size for kids to create, but are also great as non-hanging decor propped up or hanging cubicle decor
6 inch pumpkin - our magnet shape - perfect for the fridge or to add to your other larger shapes
Painted colors, bow style/colors, and vinyl saying can be edited upon customer request.