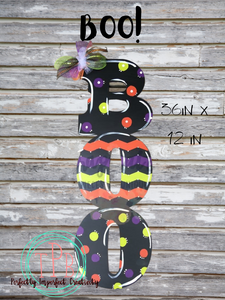 The most adorable BOO! shape ever can adorn your door and scare everyone away...if that's what you are going for LOL 
PTB door hangers are extremely weather resistant and will last for years to come!  So no more buying door decor year after year.  The galvanized steel won't rust and will outlast your life!  Sherwin Williams paint, and vinyl rated for 5 years of exterior wear complete this metal cuteness!  
36 inch shape - great for outdoor decor on fences or exterior walls; also great for large statement pieces on interior wall decor
THIS SHAPE IS $50 FOR WORKSHOP.  REGISTER FOR DESIRED DATE OF WORKSHOP AND PAY THE DIFFERENCE WHEN YOU COME.